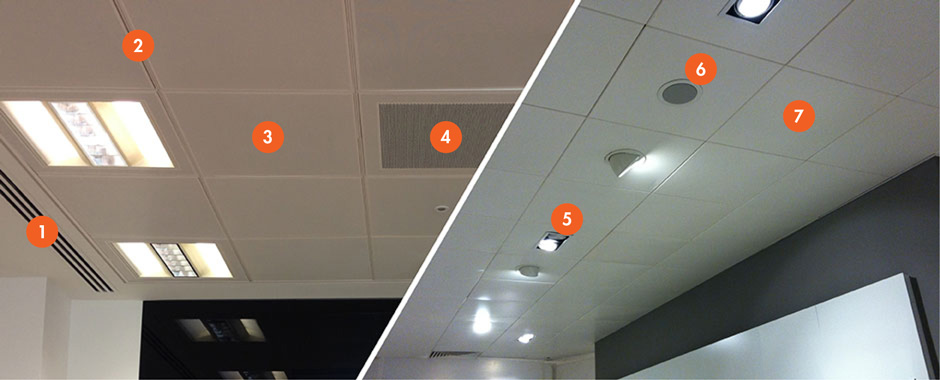 1 – We clean the exteriors of linear grilles
2 – We clean ceiling grids
3 – We clean metal perforated ceiling tiles
4 – We clean the exteriors of ventilation units
5 – We clean the exteriors of light fittings
6 – We clean the exteriors of speakers
7 – We clean metal ceiling tiles
Expert
Having studied specialist cleaning methods in America we have been cleaning ceilings in the UK since 2007. Our clients have discovered that Calabash ceiling cleaning can save them up to 85% of the cost of replacing ceiling tiles and help them avoid the closure of their premises, as we can carry out the work quickly and safely, out of hours and with minimal disruption.

Cleaning
We clean every type of ceiling with our solutions, achieving the efficiency of a 'like-new' look with more than 98% of them. We use specialist enzyme based non-toxic cleaning solutions, ensuring full COSHH compliance.
Care
Having achieved the ISO9001 & ISO14001 accreditations we meet all Health & Safety and Environmental Standards on and off site. We are fully insured and can provide full method statement, risk assessment and COSHH sheets for all our work.
Calabash customise the cleaning service to suit your requirements, as we recognise that every job is different. Should you ever need to speak to anyone about the work, you will be able to contact us immediately. We pride ourselves on our speed of response to any issues that may arise.
How can we help?
Please feel free to call us on 020 7371 9500 or send us a message regarding any aspect of your ceiling cleaning needs and we will respond promptly.
Find out who we work for
Our clients
Read what our clients say
Client feedback
"We are very pleased with the result. It was particularly noticeable after the first evening (i.e. half way through the process), when the difference between the completed half and the untouched half was dramatic. Thank you again!"

Richard Trott, Stratstone Woodford Jaguar & Land Rover

"Really pleased with the quality of work and considering the age of the tiles they have come up well. Thanks to you and the team for the work."

Bruce Davidson, Absolute Radio, One Golden Square, Soho, London

"I had the pleasure of using the services of Calabash for the cleaning of our office suspended ceiling tiles. Within a few hours of making the call, they had someone in our offices to perform a cleaning test, delivered a quote and dates for availability. They were punctual, efficient, flexible and friendly. I would recommend their services to any company looking for a similar service."

Kaytlyn Mitchell, BP International Limited, Southwark, London

"Calabash speed, execution and efficiency in carrying out the ceiling cleaning as part of our office fit-out project enabled us to significantly lower our costs and let our other teams continue with their work uninterrupted. This turned out to be vital for the completion of the project on schedule and to our clients satisfaction."

Phil Weston, WP Designs, Office Fit-Out & Refurbishment

"Your guys did a marvellous job on cleaning our ceilings. Our previous ceiling cleaning contractor has made 3 separate attempts with twice the number of operatives, but failed to produce satisfactory results. Your quote was £110 less and the ceiling cleaning job was perfect first time. We will gladly use you in the future."

Matthew O'Brien, Field Fisher Waterhouse LLP, The City, London

"Calabash continue to surprise and delight us every year with care and attention they provide in cleaning our offices. This company is head and shoulders above the rest – informed, honest, proactive, friendly and on the ball."

Mandy Rice, Thomas Telford Ltd, Westminster, London

"It is extremely unusual to have senior management from a cleaning company visiting so often and caring so much."

The Institute of Civil Engineers, Westminster, London

"We've used Calabash since the introduction of the smoking ban in 2007 to refresh the ceilings in our stores, particularly to ensure full nicotine removal. Nothing appears to be too much trouble for Calabash; it is a pleasure having such a positive team working with us."

Len Hodges, Betfred