Ceiling Tile Cleaning vs. Ceiling Tile Replacement – Cost comparison
Facilities managers, property maintenance companies, office fit out and refurbishment specialists have appointed Calabash to clean suspended ceiling tiles for them. This has saved them up to 75% against the cost of replacing acoustic ceilings. Cleaning existing ceiling tiles also substantially reduces the disruption that would occur if they were to be replaced.
Whether the problem involves grease stain removal, cleaning fire smoke damage or simply restoring aged and discoloured ceiling tiles, acoustic ceilings, metal perforated ceilings, or even walls, Calabash probably have a solution. Our safe, fast and non-toxic cleaning process returns discoloured ceilings to a vibrant, appealing state, all at a fraction of the cost of replacement.
---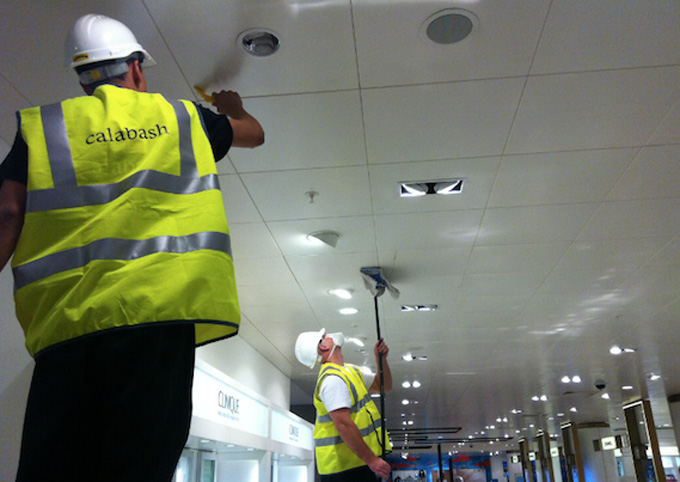 Ceiling Tile Cleaning:
75% less cost than ceiling tile replacement.
Attached fixtures (grids/speakers/ventilation units/light fittings) are fully cleaned as a part of a ceiling cleaning project.
Mess-free, quick and safe operation, using non toxic and fully biodegradable cleaning solutions.
No office shutdown period required. The average job will take 4-6 hours to complete in one out of hours visit.
---

Ceiling Tile Replacement:
Typical cost of new tiles and labour to fit: £15.00+VAT/m2 – £50.00+VAT/m2.
Attached fixtures (grids/speakers/ventilation units/light fittings) still may require further cleaning, installation marks removal, painting or replacing.
Messy, building dust and debris above old ceiling and everywhere else throughout the restoration process.
Office full or part shutdown required. The average job will take 7-10 days to complete.
Additional costs involving disposal of old ceiling tiles.
---
Ceiling Cleaning Process:
Improves the appearance of your ceiling.
Extends the lifespan of your ceiling.
Sanitizes your ceiling.
Improves ceiling light reflective qualities.
Costs 75% less than ceiling replacement.
Retains acoustical value or fire rating.
Does not cause inconvenience to your business operation.
---
Calabash support:
We have a professional office support team as well as our specialist cleaning staff and as part of a larger group of cleaning services we are able to offer complete back-up services to guarantee high quality work.
Highly trained operatives.
Non-toxic, non-flammable, and detergent based cleaning solutions.
Fully Insured.
Each project fully documented (risk assessment, method statement, COSHH sheets).
ISO 9001 & ISO 14001 quality system certifications.
Safe Contractor approved.
Established client base.